What Is Hair Transplant?
It can be very depressing to see bald patches on your head, especially when you're past the prime of your youth. Hair Transplant in Panvel can bring back your youthfulness by providing you with fuller hair growth, without having to undergo complicated and painful procedures. The procedures are highly safe and the results last long. All it takes is one visit to our hair transplant center in Panvel and you'll start seeing a new you! Contact us today! We're waiting to hear from you!
Why one needs a Hair Transplant?
Balding or losing hair is something that all men suffer from at some point in their lives. As much as we try to cover up our baldness, it only gets more prominent with age. A hair transplant is one of the solutions to help overcome balding. However, considering getting one can be intimidating and confusing. A good place to start your research would be panvel because that's where you'll find top hair transplant in panvel that makes procedures such as these easier and more affordable for patients.
Different Types of Hair Transplant Treatment
There are different types of hair transplant treatments, each one offering its own benefits. The two most popular methods are
FUE (Follicular Unit Extraction)
FUT (Follicular Unit Transplantation)
FUE (Follicular Unit Extraction)
FUE (Follicular Unit Extraction) is a newer method that involves harvesting grafts directly from your scalp using tiny punches. Unlike FUT, it doesn't require you to lose any part of your donor area because there's no need to strip off all of the surrounding tissue. A follicular unit extraction, also known as FUE, is an advanced technique that removes hair grafts one by one. Because it's generally less traumatic than other methods, it can be used on patients with very fine or soft hair. For male-pattern baldness and other conditions causing baldness, it usually takes around 6 months to 1 year to see results from FUE. For example, you may notice new hairs around your sideburns or at your hairline, but there may not be much change at first on top. But because follicles are taken one by one and since you need some live hair for hair transplants to work—FUE often leads to denser regrowth than other techniques.Learn in detail Here.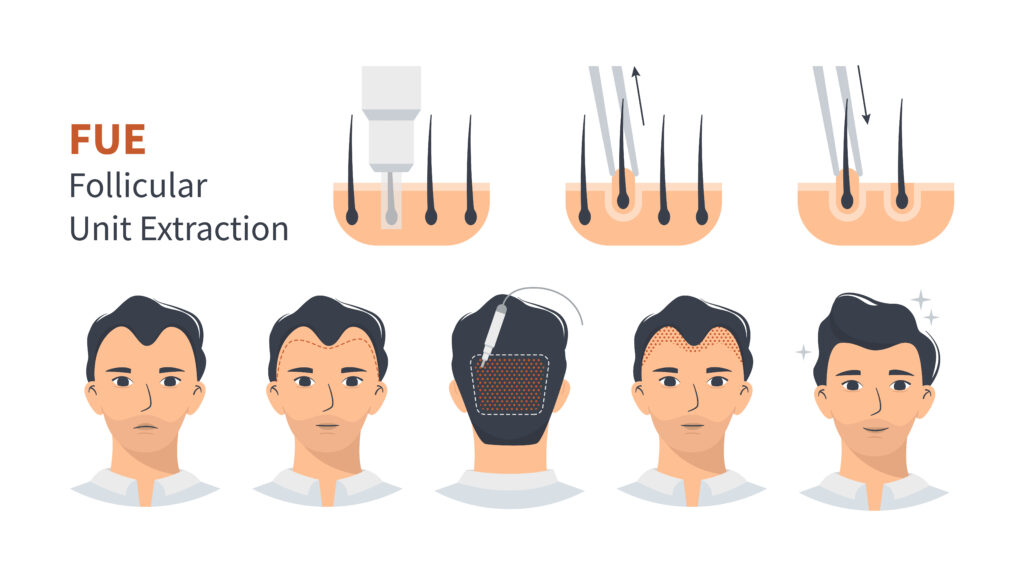 FUT (Follicular Unit Transplantation)
FUT (Follicular Unit Transplantation) is an older procedure where individual follicles are taken from your scalp, stripped down to their most basic level (usually by a dermatologist), and then transplanted back into your head—either on balding or thinning areas. In cases of FUT, an excision strip is made from your scalp. This strip is called 'Follicular Unit Extraction' or FUE (more on that later). The surgeon then removes grafts that are 1-4 hairs each. Follicular Unit Translants use specialized tools to cut tiny holes in your skin and then remove one follicular unit at a time. In some cases, they may combine smaller holes to allow them to access 2 or 3 hair follicles at once. If all goes well, you'll have thousands of grafts growing within a year! After everything is said and done, it takes between 10-14 days to heal before you can return home.
Hair Transplant Cost in Panvel and Mumbai
We know that researching hair transplant in panvel can be an overwhelming process. That's why Dr. Saurabh Parjane and his team at Dermaplast Aesthetic Clinic are here to help. We have created this guide to answer your questions about the hair transplant cost in Mumbai and Navi Mumbai so that you can make the best decision for your needs.
If you are researching hair transplant costs in Mumbai, we understand your desire for a quick answer. However, it is important to remember that there is no "one-size-fits-all" solution when it comes to hair transplants. The final cost will depend on several factors, including the size of the area being treated and whether you choose the FUT or FUE method. For these reasons, it is impossible to provide a definitive price quote without an initial consultation.
We, too, provide an EMI facility at 0% interest with
minimum documentation for your comfort.
For More Detailed Information On The EMI Facility, Call Us.
Best Hair Transplant Clinic in Panvel
It is time to take care of your hair problems and make them go away. You need a hair transplant clinic in Panvel that can help you get the best results possible. Dermaplast Aesthetic Clinic is the best hair transplant clinic in Panvel because we have the most experience and the best technology. We have been helping people with their hair problems for years, and we are ready to help you too.
Dermaplast Aesthetic Clinic knows how important it is to be able to look in the mirror and see yourself looking like yourself again. That's why we offer only the best treatments available for restoring your confidence after a traumatic event like losing all your hair due to chemotherapy or alopecia areata (an autoimmune disease).
Dermaplast Aesthetic Clinic is the best for hair transplant in Panvel. We have great no. of satisfied customers and their consent is enough to make us proud. Yes, they are completely satisfied with our treatments and we have guaranteed to give 100% satisfactory result. Because of the unique technique, this treatment has been preferred by celebrities. Our Dermaplast hair transplant clinic was started here in Panvel offering latest treatment for hair loss at affordable price. We are also serving international clients with same dedication in safe hands of experienced surgeons at a very reasonable price.
Call us now @ +91 81085 71050 for Hair Transplant in Panvel.