Picture this: a revolutionary skin clinic in Panvel. Yes, you heard it right! A place where skincare dreams come true and your skin gets the love and attention it deserves.
Now, I know what you're thinking – another run-of-the-mill clinic with fancy promises and hefty price tags. But hold on to your hats, my friend, because this one's different. This skin clinic in Panvel is like no other; it's a haven where science meets magic (well, almost). With cutting-edge treatments and a team of skilled experts who know their stuff inside out, they'll have your skin singing "I'm too sexy" in no time.
Choosing the Right Skin Clinic in Panvel
There are several factors that you should consider. Ensuring that you choose the right clinic is essential for receiving effective and personalized treatments. Here are some key points to keep in mind when selecting a skin clinic in Panvel:
Factors to consider when selecting a skin clinic in Panvel
| | |
| --- | --- |
| Location | Look for a clinic that is conveniently located in or near Panvel, making it easily accessible for regular visits. |
| Reputation | Research the reputation of the clinic by reading online reviews and testimonials from previous patients. |
| Services offered | Check if the clinic offers a wide range of services that cater to your specific needs, such as acne treatment, anti-aging procedures, or dermatological surgeries. |
| Facilities and equipment | Ensure that the clinic has modern facilities and up-to-date equipment to provide high-quality treatments. |
The importance of qualified and experienced professionals
| | |
| --- | --- |
| Credentials | Verify that the doctors and staff at the skin clinic have proper qualifications and certifications from recognized institutions. |
| Experience | Consider clinics with experienced professionals who have successfully treated various skin conditions over the years. |
| Specializations | If you have a specific concern, such as pigmentation issues or laser hair removal, seek out clinics with specialists in those areas. |
How to ensure you receive personalized and effective treatments
| | |
| --- | --- |
| Consultation process | Look for clinics that offer thorough consultations before starting any treatment, allowing them to understand your concerns and develop personalized treatment plans. |
| Customized approach | Choose clinics that prioritize individualized care by tailoring treatments based on your unique skin type, condition, and goals. |
| Follow-up care | Opt for clinics that provide ongoing support after treatments through follow-up appointments or check-ins. |
Understanding the Common Skincare Challenges
Identifying common skincare issues:
Acne breakouts
Dryness and flakiness
Uneven skin tone
Fine lines and wrinkles
Impact of lifestyle and environment on skin health:
Poor diet and nutrition can lead to dull and unhealthy-looking skin.
Exposure to pollution, UV rays, and harsh weather conditions can cause premature aging and damage.
Lack of sleep, stress, and smoking can contribute to various skin problems.
Understand how a skin clinic can help address these challenges effectively:
Professional dermatologists at a skin clinic are trained to diagnose and treat various skin conditions.
They offer personalized skincare routines tailored to individual needs.
Skin clinics provide advanced treatments such as chemical peels, laser therapy, and microdermabrasion to improve skin texture and appearance.
Dermatologists may recommend medical-grade skincare products that are more effective in treating specific concerns.
By visiting a reputable skin clinic in Panvel, individuals can receive expert guidance on their skincare journey. Whether it's addressing acne issues or rejuvenating the skin's overall health, these clinics offer comprehensive solutions for all your skincare needs.
Dermaplast Skin, Laser & Hair Clinic: A Game-Changer in Skincare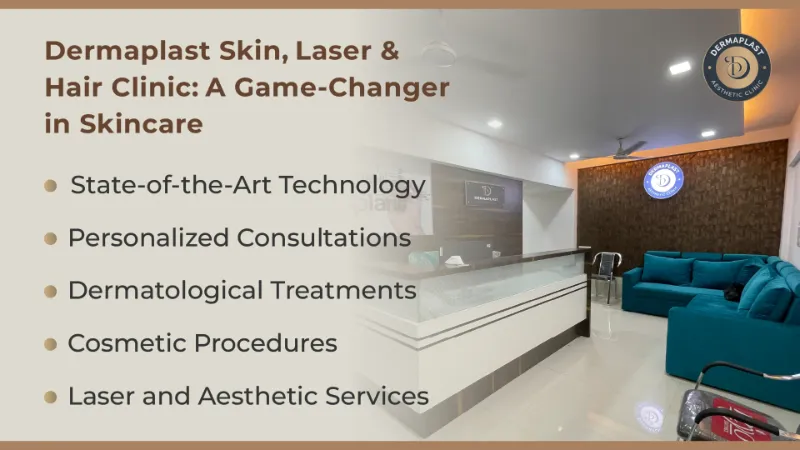 Dermaplast Skin, Laser & Hair Clinic is a leading skin clinic in Panvel that specializes in providing exceptional skincare solutions.
With a mission to transform lives through healthy and radiant skin, our clinic offers personalized treatments tailored to meet each individual's unique needs.
Our team of experienced dermatologists and staff are dedicated to delivering the highest quality care and ensuring patient satisfaction.
State-of-the-Art Technology
At Dermaplast Skin, Laser & Hair Clinic, we leverage advanced technology to revolutionize skincare treatments.
Our state-of-the-art equipment and tools enable us to offer cutting-edge procedures that deliver remarkable results.
From laser therapies to innovative medical devices, we stay at the forefront of advancements in dermatology and skin aesthetics.
Personalized Consultations
We understand the importance of personalized skincare plans and take pride in offering tailored consultations for every patient.
Our skilled doctors carefully assess each individual's concerns and goals before recommending suitable treatments.
By considering factors such as skin type, medical history, and lifestyle, we ensure that our patients receive customized care that addresses their specific needs.
Comprehensive Range of Services
Dermatological Treatments
Our clinic provides a wide range of medical treatments for various skin conditions, including acne treatment, eczema management, and anti-aging procedures.

Acne treatment options include topical medications, oral medications, chemical peels, and laser therapy.
Eczema management involves personalized skincare routines combined with medication or light therapy as required.
Anti-aging procedures encompass treatments like dermal fillers, Botox injections, and non-surgical facelifts.
Cosmetic Procedures
We offer popular cosmetic treatments designed to enhance natural beauty:

Botox injections help reduce wrinkles and fine lines, providing a youthful appearance.
Dermal fillers restore volume to the face, diminishing signs of aging and adding definition.
Chemical peels exfoliate the skin, improving texture and reducing hyperpigmentation.
Laser and Aesthetic Services
Our clinic specializes in non-invasive laser treatments that target various skin concerns:

Laser hair removal offers a long-lasting solution for unwanted hair on different body areas.
Skin resurfacing with lasers helps improve skin texture, reduce scars, and minimize wrinkles.
Tattoo removal utilizes advanced laser technology to safely eliminate unwanted tattoos.
Client Success Stories: Transformations through the Dermaplast Skin, Laser & Hair Clinic
At the Dermaplast Skin, Laser & Hair Clinic in Panvel, we have witnessed numerous success stories of clients who have achieved remarkable results. Through personalized treatments and advanced technologies, our clinic has helped individuals transform their skin and boost their confidence. Here are real-life examples of some of our clients' journeys:
Personal testimonies: Our clients have shared their experiences and how our clinic has made a significant impact on their lives. From struggling with acne scars to dealing with pigmentation issues, they have found effective solutions at our clinic. They express gratitude for the professional care they received and the positive changes they experienced.
Before-and-after photos: The visual evidence of our client's transformations is truly inspiring. We capture the progress made by documenting before-and-after photos. These images showcase the visible improvements in skin texture, reduction in wrinkles, fading of dark spots, and overall rejuvenation achieved through our treatments.
By choosing Dermaplast Skin, Laser & Hair Clinic in Panvel as your go-to skincare destination, you can be confident that you are joining a community where real people have experienced life-changing transformations. Contact us today to embark on your own journey towards healthier and more radiant skin.
Disrupting the Skincare Market: Affordable Excellence
At the Dermaplast skin clinic in Panvel, you can experience top-notch skincare services without breaking the bank. This clinic is revolutionizing the industry by offering affordable excellence to its customers.
This clinic stands out from the rest. They have managed to strike a perfect balance between quality and affordability, making it accessible for everyone to take care of their skin.
Compared to other clinics in the area, the prices at this skin clinic are remarkably competitive. Here's how they stack up against their counterparts:
| | |
| --- | --- |
| Facial treatments | While other clinics charge exorbitant prices for facials, this clinic offers a range of options at pocket-friendly rates. You can choose from various facial treatments tailored to your specific needs and still enjoy exceptional results. |
| Laser procedures | Laser treatments are often associated with high costs, but not at this clinic. They provide cutting-edge laser procedures at affordable prices, allowing you to address skin concerns such as acne scars or unwanted hair without breaking your budget. |
| Skin rejuvenation therapies | If you're looking for effective ways to revitalize your skin, look no further than this clinic. Their rejuvenation therapies are not only highly effective but also reasonably priced compared to similar offerings in the area. |
Conclusion
Congratulations! You've taken the first step towards achieving healthy, glowing skin by exploring the world of skincare clinics in Panvel. By now, you understand the importance of choosing the right clinic that can address your specific skincare challenges. And that's where Dermaplast Skin, Laser & Hair Clinic comes into play.
Dermaplast Skin, Laser & Hair Clinic is not just any ordinary clinic; it's a game-changer in skincare. With their team of experienced professionals and state-of-the-art technology, they have successfully transformed countless clients' lives. Their client success stories speak volumes about the excellence they provide at an affordable price.
So why wait any longer? Take charge of your skin health and book an appointment with Dermaplast Skin, Laser & Hair Clinic today. Experience the transformative power of their treatments and witness your own success story unfold.
FAQs
How long does each treatment session at Dermaplast Skin, Laser & Hair Clinic last?
Each treatment session's duration depends on the specific procedure and individual requirements. However, most sessions typically range from 30 minutes to an hour. The expert staff at Dermaplast will guide you through the entire process and give you a clear idea of how much time to allocate for each visit.
Can I expect immediate results after my first visit?
While some treatments may show immediate results, others may require multiple sessions before noticeable changes occur. The experts at Dermaplast will assess your unique situation during a consultation and provide you with realistic expectations regarding timelines and outcomes. Remember, skincare is a journey, and consistency is key to achieving long-lasting results.
Are the treatments at Dermaplast Skin, Laser & Hair Clinic suitable for all skin types?
Yes! Dermaplast Skin, Laser & Hair Clinic offers a wide range of treatments that cater to various skin types and concerns. Whether you have oily, dry, sensitive, or combination skin, their skilled professionals will customize a treatment plan specifically tailored to your needs.